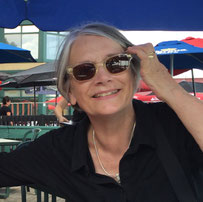 Hello—
I'm Cat Bennett. I'm an artist, illustrator and author. I live and work in Watertown, MA just a stone's throw from Boston.
I have been an illustrator for over 25 years with clients such as The Boston Globe, The New York Times, The Atlantic Monthly, The Wall Street Journal, The Baltimore Sun and Time Magazine, Houghton Mifflin, Scholastic, Harcourt Brace and many other publications. I've also made short animations for CBC-Sesame Street, Nickelodeon TV, WHDH-TV, WGBH-TV and various non-profits. I now mostly make independent art, teach drawing to adults and write books.
For the last 10 years, I've also led The Saturday Morning Drawing Club at The Arsenal Center for the Arts in Watertown, MA. My three books are based on this class—
My first book, The Confident Creative / Drawing to Free the Hand and Mind, published by Findhorn Press 2010, was a gold medal winner in the 2011 Nautilus Book Awards. You can buy it here.
My second book, Making Art a Practice / How To Be the Artist You Are, Findhorn Press 2013, was Book of the Year 2013 in the Arts category of Foreward, the library review journal in the US. You can buy it here.
My latest book, The Drawing Club of Improbable Dreams, Findhorn Press, fall 2015, shows how to start and run a drawing club and make magic happen. You can buy it here.
About my art—
I'm mainly interested in peace and happiness. As an artist, I try to provoke inquiry into how we might create positive change. Gandhi said we need to be the peace we want to create in the world. In my art I ask how we might be more open-minded and allow ourselves to envision greater goodness. For me art is about both what we see and what we can envision.
I believe that art has the power to transform—both in the making and in the experience of being in its presence. I try to make art a discipline in which I stay actively engaged on a daily basis so that I can listen to inspiration and act on it immediately. I think that infinite possibility is all around us if we can open ourselves to receive it and act on it. If we can trust that we are all more than we think we are. 
Cat